Golf Course Transforms Dying White Oak Tree Into Sculpture
In 2019, the St. Charles Park District unveiled a new wooden sculpture at Pottawatomie Golf Course, honoring the history and natural integrity of the 80-year-old course along the banks of the Fox River.
Made from a 150-year-old dying white oak tree near the practice green, professional chainsaw artist Michael Bihlmaier created the piece over the past couple of weeks. It stands 16 feet tall and 3.5 feet wide, and it features carvings of a vintage golf bag and native wildlife including hawks, foxes and birds. The sculpture is the first of its kind in the Park District.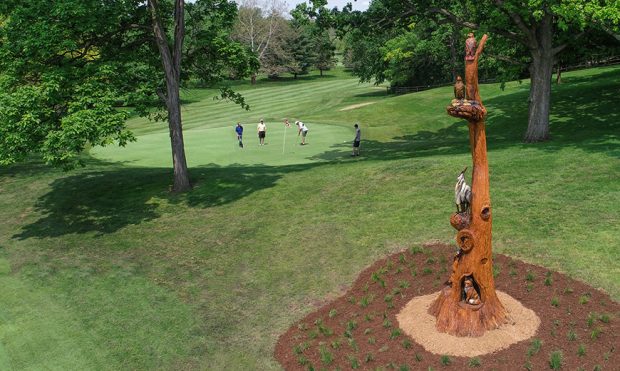 The design reflects all aspects of Pottawatomie, according to Golf Course Superintendent Denise Gillett-Parchert. "First we wanted it to represent the course's history, and second, our status as an Audubon Cooperative Sanctuary – which is a testament to being good stewards of the environment," she said.
The sculpture was made possible by the persistence of Gillett-Parchert and the private donation from St. Charles residents Bill and Nancy Cox.
When the golf course lost a few trees to emerald ash borer infestation five years ago, patrons had asked about making a carving out of one of those trees, Gillett-Parchert said. The ash trees couldn't be saved for a carving, but she didn't give up on the idea.
"This was a goal of mine to see this type of project come to fruition, and with the generous donation from Bill and Nancy Cox it was made possible," Gillett-Parchert said.
The sculpture was the perfect way for Bill and Nancy Cox to give back to the community, of which they've been residents since 1978. In addition to volunteering with various local environmental projects over the years, Nancy Cox served on the St. Charles Park District Board for 12 years, and Bill Cox has been a volunteer starter at Pottawatomie for the past five years.
"We are happy to donate the funds to help create a sculpture out of something natural, which will add even more beauty to an already scenic and beautiful place," said Bill Cox. He added the gift is from their family fund that also includes their daughter, Halle Cox.
"I think this sculpture will be a nice piece for the park, something residents and visitors can enjoy for years to come," said Bihlmaier, whose local work includes the ear of corn carved out an ash tree at the Kane County Farm Bureau's office on Randall Road in St. Charles.
Renowned golf course architect Robert Trent Jones, Sr, designed Pottawatomie Golf Course in 1939.
In 1997, Pottawatomie became the first 9-hole golf course in Illinois to receive the status as a certified Audubon Cooperative Sanctuary. It has maintained its status ever since, always keeping the environment at the forefront regardless of renovation or addition.
For more information about the sculpture, contact Denise Gillett-Parchert at 630-513-4351.